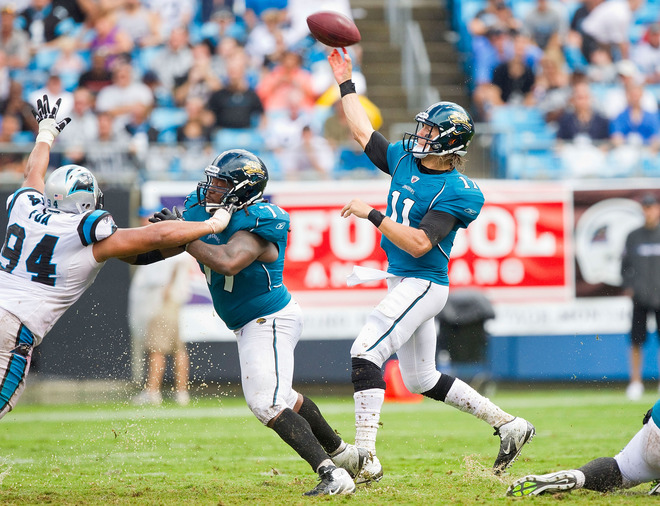 Blaine Gabbert, QB, Jacksonville Jaguars (10th Overall Pick)
This week saw Gabbert's first career start and it was a wild game with extreme weather conditions that certainly affected the play of the rookie QB. Despite the downpour, Gabbert was able to complete 12 of 21 passes for 139 yards and get the jaguars' first passing touchdown of the season. The QB rookie showdown would've been ideal to see in nice weather but still proved to sow great potential under the circumstances.
Cam Newton, QB, Carolina Panthers (1st Overall Pick)
Despite his much decreased numbers from the first two rounds, Newton finally led his team to a win against the Jaguars. In the terrible weather and field conditions, Newton still showed off his strengths that made him the 1st overall pick. Newton led his team with 158 passing yards and a touchdown and 27 yards on the ground. Good to see him finally get a win and as the weeks so far Newton has been showcased every week in this blog, lets see if he can do it again as he comes up against the Bears next week.
Julio Jones, WR, Atlanta Falcons (6th Overall Pick)
The exciting receiver keeps reminding the Falcons that they made a good move on draft day and once again Jones showed off his great hands and down field ability against the Buccaneers. Jones racked up 115 yards on 6 catches. While the Falcons have been underachieving so far this season, Jones is still building up on his potential and once the offence clicks, he'll be part of a lethal attack.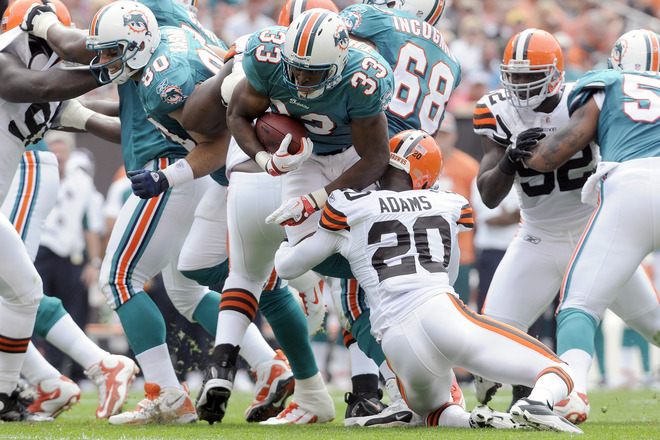 Daniel Thomas, RB, Miami Dolphins (62nd Overall Pick)
The Dolphins signed Reggie Bush hoping to replace Ronnie Brown and Ricky Williams but the Bush days seem to be over already with the consistent play that Thomas has showcased so far. both weeks Thomas has been in the lineup he has offered a consistent running attack and has shown to be a weapon in the passing game as his first NFL touchdown came from a dumpoff play that he took in to the endzone. Thomas finished the game against the Browns with 95 rushing yards with 4.1 yards per carry and 27 receiving yards off 3 catches. Bush had a tough day with 2 fumbles and only 13 yards off 10 carries so look for Thomas to get more of the carries in the coming weeks.
Torrey Smith, WR, Baltimore Ravens (58th Overall Pick)
 In weeks 1 and 2, Torrey Smith made no noise whatsoever, week 3 against the Rams was a whole different story. The rookie wide receiver hauled in three consecutive touchdowns in the first quarter. Smith finished the game with 5 receptions for 152 yards and 3 touchdowns marking off one of the best rookie performances   by a wide receiver in NFL history. Smith's best attribute is his down field ability which was showcased so his presence will have a great affect on the rest of the receivers and Flacco has a new lethal weapon.
Notable Players - Dan Bailey (K, Cowboys), Denarius Moore (WR, Raiders), Kyle Rudolph (TE, Vikings), Titus Young (WR, Lions), Mason Foster (LB, Buccaneers), Von Miller (LB, Broncos)