On a must win night for the Miami Heat, who were unexpectedly (for most onlookers) one game away from elimination thanks to an "aging" Boston Celtics, they needed a royal performance from King James and he did not dissappoint.
Heat 98 - Celtics 79:
Celtics need better than 4-18 from PP.
Now I could break down the game quarter by quarter. I could analyse the performance of Rondo who put up 21/11 or the poor shooting again of Pierce and Allen. I could rant about Wade still suffereing a slump despite some 4th quarter buckets. I could even look into Bosh's extended minutes (28) and relatively low production, although this can be excused with only his 2nd game back. However doing any of this just diverts from the only really important factor of this game.
LeBron James.
45/14/5 entitles you to take a play off.
I think the ringless "king" must have heard the news that Durant was sniffing for the number 1 spot in the game. Not only did James come out on fire, he absolutely dominated the game, racking up 30points by halftime, giving the Heat at 13points lead. James was absolutely on fire last night, shooting 19-26 on route to 45 points, playing almost as many minutes (44) all while dropping 14 rebounds, 5 assists and 2 threes. He hit 14 jumpers, using glass, runners, low post moves or just bulldozing through the sea of green to take it hard to the hole. There was simply no strategy the cunning Rivers could draw up to slow this down. A breakout game (not to say he has struggled) was due and how he delivered.
LeBron did not only score he shut down Paul Pierce on the other end. The Truth contributed just 9points on 4-18 shooting, yes this was bad, and could find no way to help drag the Celtics into contention. James has made 4 1st all NBA defense teams and with performances like this it's not hard to see why. He uses his size to bully his man off the post, his quickness to avoid being beaten and he has the defensive awareness to guard muiltiple players. He understands when and who to rotate too while having the endurance to lock down his matchup all while torching them on the other end. Performances like this are only capable by a select few in the league and James does it the most consistently.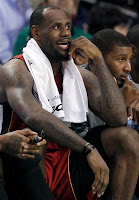 History with no hairline.
Recently the criticism has been harsh. His teammates, including his all world running buddy Dwyane Wade coasts through the first 3 quarters, have struggled to have any consistent impact against the Boston Celtics. He has done all he can averaging 34pts/10.8rbs/4ast/1stl/1blk in the conference finals. Read that line back and realise this is his AVERAGE. He is playing out of this world to keep the Heat within striking distance and has complained not once. This is historic territory LeBron is treading in, as the last player to have 45+/14+/5+ in a playoff game was Wilt Chamberlain with 50/15/6. That is the only other time someone has posted a line that meets this criteria in the postseason. MJ didn't do it neither did Bird, Magic, the Big O, Kareem. No one. With play like this if either Bosh or Wade can bring anything close to an A game the Heat are going to be a tough matchup for Game7 and the NBA Finals.
However in saying this if Allen or Pierce could add some genuine contribution to the efforts of Rondo and KG then regardless of LeBrons heroics the Celtics could easily win again in South Beach. In what looks like a fascinating game 7, its do or die time for the future HOF's and the King with no ring.
Prediction - Heat by 5
By Luke Gurrey
@ImAlways_Hungry
lukegurrey.blogspot.co.uk
www.youtube.com/doubletakedebate