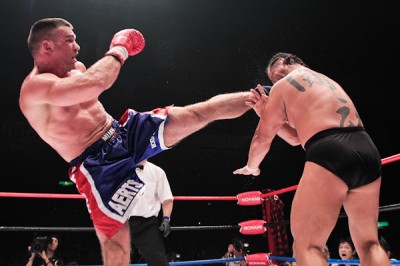 (Peter Aerts' career came to an end, but he has much to be proud of)

It was his last fight. An overhead right hook from Tyrone Spong sealed his career as he went down on the floor. He was not put to sleep, however; he got up quickly, determined in his resolve to go on, push further, try the hardest he can. Once again.
Those moments practically summed up his career. Not the defeat, but the determination.
On the 30th of June, Peter Aerts lost what was said to be his last match in kickboxing (K-1) uniform.
The inevitable fall against a much younger opponent, naturally, proved what we already knew about him: his warrior's honor, his legacy, the spirit of a champion.
"I could have picked an easier opponent, but I've never refused to fight anyone." – the 41 year old Peter Aerts said in a K1 standard pre-match hype interview.
"I don't want an easy opponent for my last fight, because that's something I've never done before."
The great legend certainly had a point there and those brave words only magnified his enduring greatness but also shed some light on the rough, bloody and difficult path martial artists have to take behind the glamorous lights of K-1 rings. Not to mention the fact of how tough does it actually get at the age of 41 (for those who dare stay in gladiator's ring for such a long time).
How will Peter Aerts be remembered?
Well, the list is a long one, but let us do him the honor of mentioning at least the most important ones:
IKBF World Heavyweight Championship (1990)
WMTA World Heavyweight Muay Thai Championship (1991)
MTBN World Heavyweight Muay Thai Championship (1992)
1994 K-1 World Grand Prix Champion
1995 K-1 World Grand Prix Champion
1998 K-1 World Grand Prix Champion
His famous high kicks will undeniably be missed badly in the world of martial arts, as well as his pure technical but still incredibly effective and powerful fighting style that had been sending shivers of fear in the rings of K-1 throughout his entire career. When I say 'entire', yes, I mean it literally – even at the ages of 38, 39 and 40, beating the very greatest of K-1's fighters and making World Grand Prix finals appearances multiple times.
The man with the nickname "Mr. K-1" truly lived up to his reputation and fame. His own decline, i.e. the decline of his career due to his age also marked the decline of K-1 itself. The once mighty corporation still faces some major problems and whether they will recover their former glory is questionable. The retirement of Peter Aerts is thus felt both physically and spiritually.
"I'd rather take the risk of losing and going down like a man than picking a weak opponent."
The aim has been achieved; his honor remains unspoiled and his determination unmatched. With K-1 crumbling (last year's final World Grand Prix not even taking place), Aerts could have just decided to walk away and don't fight at all, and it would have been a right decision. He certainly has enough in his legacy to be remembered forever as one of the greatest, if not, the GOAT himself, as fans like to say.
Nevertheless, Peter chose the most honorable of paths that would lead him to the very end.
What more could a fighter of his status want in a situation like that?
To win, of course, which is why Peter demanded a rematch immediately after the fight ended.
Osu!