Another pivotal Game 5 following OKC's win over San Antonio the previous night. This one was set up to be quite the match up, as news of Chris Bosh returning to the court was leaked before tip off (all be it off the bench). So with the Celtics taking their talents to South Beach the stage was set for an Eastern Conference war.
Celtics 94 - Heat 90: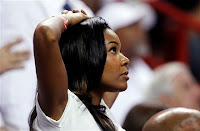 Best thing Miami offered all night.
The first half was a case of Miami's Big Three against Rondo and his role players. LeBron was already dominating play with (18/9) hitting running bankers, floaters, taking numerous Celtics off the low post and just genuinely dominating play on both sides of the ball. He was finding little help however as Wade continued to struggle in all quarters that are not the fourth, as he sat on 7points on just 3-9 shooting (the Heat as a team shot 36% with 11TO's). If Miami wanted to win this game they needed more consistent play from "Flash" who had so far coasted throughout most of the series and until Game 4 against the Pacers, he has coasted through the playoffs.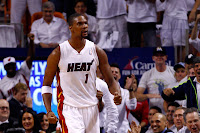 Bosh was effective in limited time.
Bosh however suffered from no such problems, as he came on to a rousing ovation from the Heat crowd who recognise his importance having watched their team go through numerous offensive droughts since his injury. They say "you never know what you got till it's gone" and this could not apply more so than to Bosh whose stock has risen exponentially this postseason. He came in at that half shooting just 3-7 but had 6rebounds, 5 of which offensive, and totaled 9 points. He also brought hustle and energy to a Miami frontcourt devoid of any real offensive abilities and briefly opened up the game for the Heat, but his shortcomings on defense were exposed by KG. Put this down to lack of game time as well as a genuine lack of defensive ability.
Rondo, like LeBron, was excellent for his team, keeping Boston in it at 42-40 at the half with 3pts/4ast/3reb/3stl but shooting just 1-8FG. However, Rondo's shooting percentage was not an overly great concern for Rivers as he can still control and effect the game like few others despite his shooting woes. Brandon Bass stepped up in the first two quarters with (10/3) which was critical as Allen shot just 1-4 and Pierce 2-10. The Celtics despite shooting 33% for the half were right were they needed to be, down 2 and with the security of knowing they could execute well enough offensively to at least get either Pierce or Allen going.
KG was on fire all night.
In the 3rd Celtics continued to double on Wade despite his struggles, in the knowledge he could shake loose, and the gameplan was clearly getting to him. The Celtics on the other hand opened with back to back lob passes down low to KG, exposing the same flaw they have in the Heat's frontcourt all series. James meanwhile had managed to total a double double by just the 9minute mark in the 3rd Quarter with his 10th rebound collected. Miami used LeBron's energy to spark a 9-0 run to break out to a 59-50 lead and it looked as if the Heat would finally put a stranglehold on their ageing opponents. However Rondo had other ideas and managed to put Boston on a run of its own, finishing the quarter 65-60 on a 3point corner shot from Dooling. During this run Garnett (26/11) who was huge for the game, also had a throwback moment as he put James Jones on a poster on a delayed fast break dunk through the lane.
The final period was a question of who would step up first, Wade or Pierce, the two teams best closers to help take the 3-2 lead in this series. The Heat even got help from Norris Cole, remember him, as he chased down Rondo on the fastbreak with a momentum changing steal from behind. This lifted a somewhat muted crowd in South Beach but it wasn't quite enough. Following the block of the playoffs from Wade on Bass, in one swift motion Rondo "outjumped" LeBron for the one handed rebound kickout to Pietrus on in the corner. It is these kind of special plays that make Rondo such a unique point guard and so special to these Celtics. I have flirted with the idea of them trading him in the past but the way he has played recently, the heart and leadership he has shown, it is up there with the very best of them.
One man show. Too often this series.
Miami struggled with transition defense all night long, whether of makes or misses, and was no more evident than when Wade hit a double clutch pump layup over three Celtics defenders to take the lead. However off the make within 5 seconds Pierce had driven to the hold and drawn two free throws (of which he made both). Celtics defense on the other hand was superb, switching between man and zone defense and even a man to man defense disguised as zone. This threw Miami off their gameplan, struggling to read what was given to them especially with no real point guard in the team.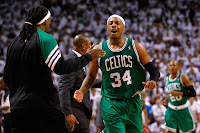 The Truth came through. Again.
Then came the clutch. Wade had contributed 15points in the 4th but it was Pierce who stole the show. On just 6-19 shooting for the night Pierce hit the biggest 3 of the series. Following a block on a Lebron layup attempt from KG, Pierce dribbled down the clock at the top of the 3 points line, eyed up James, and just rose above him to drill a 3 with 52 seconds left and push the score to 90-86 in Boston's favor. Another game 5 win for Boston, who are 9-0 in Game 5′s since 2008, as Rivers completely outclassed Spolestra on defensive schemes, offensive adjustments and effective plays out of time outs. Spolestra refused to bring Bosh back for the 4th, citing fatigue and pressure, but this seemed ridiculous given the occasion. This disparity in coaching abilities is what I feel completely swings the series back in Boston's favor.
Prediction for Game 6 - Celtics by 8.
By Luke Gurrey
@ImAlways_Hungry
youtube.com/DoubleTakeDebate
lukegurrey.blogspot.co.uk